Top 10 Best Icon Packs 2019 (Paid/Free)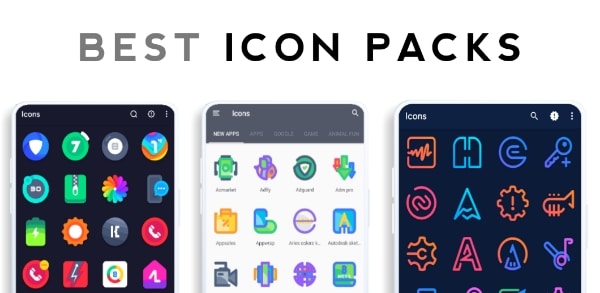 In this article, I am sharing some of the best Icon Packs of 2019. I have included 5 paid and 5 free icon packs in this list so that this article will be helpful for everyone.
Every time you customize your android phone with new launchers, wallpapers, icon packs and widgets it always makes your phone feel more refreshing and new. That's a reason why we keep on sharing a new home screen setups on our official Instagram account. So, Do follow us there.
While customizing your Android phone icon packs plays a major role. And if you head towards play store and search for icon packs you will find a plethora of different apps. This results in lots of confusion because of which you have to download and install many icon packs to find the right one for you. However we here on Androholic researchers a lot and come up with the top 10 best icon packs of 2019 which are surely gonna look amazing on your android phone.
Best Paid Icon Packs 2019
Here we are going to start the list with 5 paid icon packs. Later on, I will also share 5 free icons packs if you don't want to lose your pocket. But my personal recommendation is that if you want some high-quality icon packs, paid ones should be your choice. Now without wasting more time let begins with a list of paid icon packs.
1. Enix

This one is my personal favorite a unique, shapeless and a vibrant icon pack, With having more than 1200+ icon pack. Also, the developer seems to be promising as they provide weekly updates with new icons and improvements in their app. The Enix icon pack grabs the No. 1 position in the list of top 10. I am using this icon pack for my daily use for almost 2 months and I hope this is the one which will suit your taste also. So do check it out.
Price – 99 INR
Download- Click Here
2. Linebit Icon pack

This icon pack is just gonna look aesthetic if you are the one using dark wallpapers or like if you have an amoled screen Oh! Man, this is gonna like a cherry on a cake. The Linebit includes more than 2600+ icons. It is best for the users who love minimalism and want to keep things look clean. The developer also included few wallpapers in the app too which when used with the linebit gives amazing results. With having such a great number of icons this app covers all the major apps available on play store, I hope you will not regret buying this.
If you want something light there's another version of Linebit called as "LineBit Light", Check that too.
Price – 120 INR
Download – Click Here
3. Chiki Icon Pack

A Unique and Flat icon pack having a super unique design with a faded look. This icon pack includes 2000+ icons and according to the developer, new icons will be added in monthly updates. App also includes cloud-based wallpapers which are made especially for these icons. It covers all the major Google apps, social media, and other utility apps. You can also request for the icons which are not designed yet. One of the unique icon pack, Do check.
Price  – INR 65
Download – Click Here
4. Gradion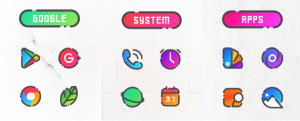 A Unique icon pack by the same developer who developed the Enix icon pack. This includes some beautifully handcrafted gradient icons. They have more than 1500+ icons which include all the major apps. It also has wallpapers collection and an icon request option within the app. A vibrant icon pack you should surely give a try.
Price – INR 169
Download – Click Here
5. Glaze

Another vibrant yet minimal icon pack with material design. Glaze icon pack includes more than 1500 icons, You can also request icons that are not designed. All the icons are handcrafted and give you a glazed look. Moreover, the Icon pack can be used with all the major icon pack supported launchers. For me, it has all the icons of the apps I have installed on my smartphone. A worthy icon pack, Do look if you want that vibrant glazed feel to your overall theme.
Price  – 55 INR
Download – Click Here
Best Free Icon Packs
So, You don't want to spend money on these packs? That's why I think you have jumped to this section of the article!. Don't worry, I have looked out for some of the best free icon packs available on google play store. Here below are the best 5 we have chosen to suited different kinds of android themes and wallpapers. Now without wasting a more let begins with the list.
1. Minty

A Bright, Unique and bold icon pack which has more than 1200+ icons. Minty is one of the best free options if you are looking for something fresh and bright icon pack. They have icons of most of the apps a normal user use in its phone, One good thing they have also included 22 beautifully handcrafted folder icons which are best if you like to put different types of app in a single folder. One of the best free icon pack, Do Check.
Download – Click Here
2. AfterGlow Icon Pack

As the name suggests Afterglow is a pastel color glowing icon pack. These icons are handcrafted and each icon has a unique style. Personally, I used this icon pack a lot when I was new to the customization world. This icon pack has been created by the developer who created Glaze. One of the great icon packs if you are looking for something glowing a unique theme.
Download – Click Here
3. Splendid

Splendid is an icon pack based on google material design principles. They have provided high-quality icons however the number of icons available is little less as the app in the beta stage but the developer has promised to bring regular updates with new icons. Do check this one if you are into something minimal and round icons.
Download –  Click Here
4. Oriels Icon Pack

A fresh icon pack based on android 8.0 oreo by Google. Having more than 1100+ icons, Oriels is one of the unique icon pack in this a list. The developer has also promised to provide regular updates with new icons. You can also request icons from the app dashboard. A kind of minimal icon pack you must give a try.
Download – Click Here
Lines Free Icon pack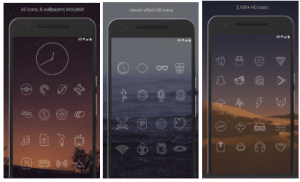 A clean simple icon pack made for giving you the most minimal look. As the name suggests, the icon pack has no background and is handcrafted in the different form lines. Lines is on the great and old icon pack that's why it offers more than 2300+ icon packs. Also, they have included more than 200+ cloud-based wallpapers that suit these icons.
Download – Click Here
Best Launchers to Install Icon Packs
I think most of you already know that to install an icon pack in your smartphone you need to have a custom launcher that supports icon packs. Most of the official launchers which come up with android phone doesn't have that feature (expect – OnePlus & some other devices). That's why you need a custom launcher to install the icon packs we share below.
Here are some of the Android Launchers we Recommend –
Install any of these and you are good to go.